The best XRF Analyzer Guns: Handheld Lead-Testing X-Ray Spectrometer Machines For Sale at Great Prices
The best XRF analyzer guns featured here can serve many purposes, including metal and lead paint testing. Get the handheld and portable X-Ray spectrometer at a price that works for you. 
Fill out the form so we can learn about your needs and provide no-obligation quotes.
Handheld XRF analyzer devices for lead testing & more are for sale for prices ranging from $7,500 – $50,000, depending on your needs. Get quotes from competing companies to lower your cost.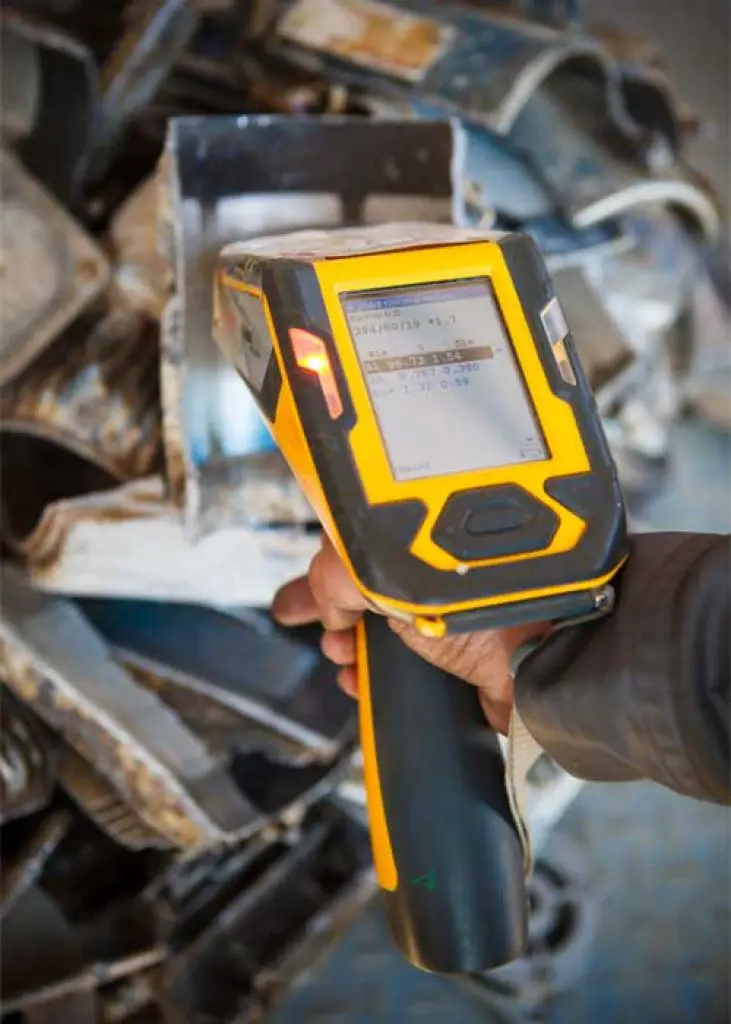 Get easy samples analyzed in the field. You won't find these XRF lead-testing guns on Amazon! Get the best price on handheld, portable XRF analyzers, and machines.
Get a lead detection gun today that can also be used for metals like gold. They're great lead paint detector devices.
Here's a list of things they're commonly used for:
Identify alloys
Deliver geochemical data
Analyze precious metals
Determine coating weight
Elemental analysis
Here are some of the industries that use these machines:
Construction & environmental engineering
Mining & exploration
Precious metal recycling
Automotive
Aerospace
Metal fabricating
Oil & gas
3M LeadCheck Swabs and D-Lead, what's the deal?
Bulk 3M Lead Checks Swabs and D-Lead lead paint test kits are the two main EPA-recognized testing methods. It allows contractors and homeowners to comply with the RRP rule and help ensure your family's safety.
With their ease of use and low cost, we have helped contractors detect the presence of lead in paint. It happens almost instantly!
XRF analyzer guns are great ways to live up to the rules. Get your handheld X-ray spectrometer machine from our website.
| | | |
| --- | --- | --- |
| Price | Manufacturer | Model |
| $25,000 | ThermoFisher | XL2 800 |
| $39,100 | ThermoFisher | Xl3t 800 |
| $45,800 | ThermoFisher | XL3t 980 |
| $14,495 | Thermo Scientific | |
| $4,890.00 | Thermo Scientific | |
Can these products test kids' toys?
The quantity found in children's products must be less than 100ppm. Since most products offered can screen to 600 ppm, don't rely on these tests for your children's products.
Before buying these swabs, it's also important that you make sure they work on the surface you intend on testing. 
Are home lead test kits and XRF analyzer guns reliable?
If used properly, the test kits that we sell on this site are so reliable that they have been approved by the EPA for RRP testing purposes and will give you a positive or negative response. 
You can also find products on the market that aren't EPA-approved, although we only sell EPA-approved ones. 
You need to know about the two important products are 3M LeadCheck swabs and D-Lead lead test kits. Other products cannot be assumed to be reliable and won't pass an EPA inspection which could mean you end up getting fined.
We also encourage you to consider XRF analyzer guns, which are great machines for spectroscopy.
XRF scanners provide a handheld solution at a price that depends on your needs. These guns can also test gold. Get the right instrument and lead detector device for your needs. 
The easiest way to test your home for lead paint is with the D-Lead or 3M product we sell on this website. Using either one, you'll be able to figure out if your home contains the material reliably. 
Follow the instructions on the product, and you'll have your answer within 30 seconds.
| | |
| --- | --- |
| Ways to test | Pros/cons |
| 3M LeadCheck | Cheap |
| D-Lead | Cheap & comes with a great kit |
| XRF | More expensive, doesn't leave marks. |
Do home inspectors check for the material?
The various tests that inspectors do will vary. There isn't a universal process they use, so the easiest way to figure out if they are going to or not is to ask them. However, it is fairly common for them to check if the home was built pre-1978.
Alternatively, you can check for yourself with the help of the products sold on this site. Make sure you get the right spectrometry machine.
The cost of an XRF analyzer ranges between $17,000 and $55,000. It's the reason they're mainly used by pros.
| Manufacturer | Headquarters |
| --- | --- |
| Bruker | Billerica, MA, USA |
| Thermo Fisher Scientific | Waltham, MA, USA |
| PerkinElmer | Waltham, MA, USA |
| Panalytical | Almelo, Netherlands |
| Rigaku | Tokyo, Japan |
Is XRF safe? 
To avoid contamination, operators need to undergo substantial training. It is often used in difficult environments to discover things like Pb or lead. You can find the differences in minerals and materials on different surfaces from displaced electrons. 
Results can then be uploaded to a desktop for industrial & environmental analysis through software included with these machines. Operators can have different use cases with different requirements and processing needs. You'll be able to analyze a variety of elemental components, such as uranium and Mg, in all sorts of environments. 
These devices have the power and function to make compositional identification easier, thereby adhering to compliance requirements. 
Your screening needs have never been this easy to meet, whether in the manufacturing or mining business. 
X-ray fluorescence spectrometers are a great invention, adhering to industry standards. You may need sample preparation, but you'll be working in no time with your detection needs.
Have you found out which device to get? 
Niton
Thermo Scientific
Elvatech
Xcalibur
Keeping homes safe for years
Our mission has been to make it easy for pros and homeowners to get the necessary products. Get them from manufacturers that you can trust.

It's our goal to expand our product selection to help you with even more home improvement-related tasks.
What does an XRF analyzer do?
An XRF analyzer helps you analyze elemental composition. Its main benefit is its non-destructive way of operating and its speed.
What elements can XRF detect?
Aside from light elements, it can measure most things. It is very good when it comes to measuring iron and nickel. It can also be used for things like gold.
What elements can an XRF not detect?
This handheld machine cannot detect light elements. Elements it isn't able to detect include sodium and lithium.
How accurate is the analysis of an XRF gun?
It's extremely accurate. However, you need to make sure you get the right one with the right settings. The Niton XL5 is a very accuraate spectrometer. The S1 TITAN is another accurate, portable machine that provides reliable results at a reasonable price. Make sure to consider the Niton XL2 as well.
Are XRF guns safe?
They are safe when used correctly. Since they emit X-rays, improper use can be dangerous.
What is the principle of XRF?
An X-ray hits the inner shell electron. This X-ray is generated in a tube. The actions eject the election, which leaves an empty void. An outer-shell electron takes its place. Radiation is emitted that is measured. It typically works by dispersing energy, and testing is conducted. They also come in benchtop models.
How much does an XRF machine cost?
The price of a new, handheld XRF analyzer is typically between $10,000 and $50,000. You can get various models from manufacturers like Olympus and Thermo Fischer. Olympus offers the popular DELTA handheld XRF gun, and Vanta is another model they offer. Hitachi and Oxford are other manufacturers to consider. A cheaper model includes the Thermo Miton XLT, usually starting at around $4,000.
What does an X-ray spectrometer do?
An X-ray spectrometer can help test lead paint. SciAps is a popular model. Other users like the xSORT model from Spectro.
News You Can Use
Check out our many different blog posts on related issues. We'll cover everything from EPA-sanctioned fines to industry news you should be aware of. Be sure to subscribe to our newsletter to stay updated.
We have a blog where we post on topics related to lead exposure. It includes everything going on globally and various news on abatement. We strongly encourage you to check it out. Bookmark it so you can come back and see what is going on.